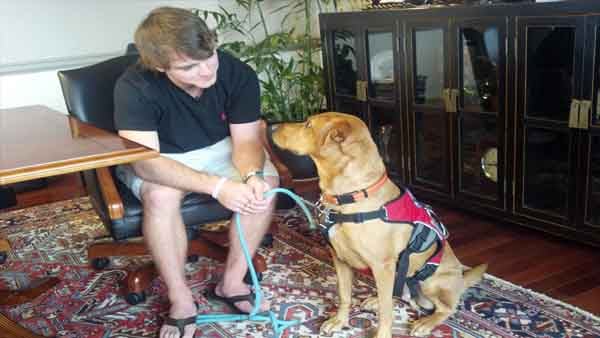 COBB COUNTY, GA (CBS ATLANTA) -
A 20-year-old with a service dog is suing Popeye's and Cobb County for discrimination.
Taylor Gipson, 20, never goes anywhere without his 3-year-old service dog named Bear.
"Just having your best friend by your side all the time, I don't think I could live without one," Gipson said.
Gipson said he has Type 1 diabetes and Bear is trained to alert him when there are changes to his blood sugar and before encountering a seizure.
"He can smell from my breath when my blood sugar is rising or dropping too quickly and he will alert me when that's happening," Gipson said.
Four months ago, Bear did just that. So Gipson walked in to a Popeye's restaurant on Windy Hill Road in Cobb County to order some food. That's when he said he encountered a rather unusual problem with management.
"It wasn't five minutes after I ordered my food that this manager was right up in my face telling me to get out of her restaurant," Gipson said.
Gipson said the manager told him to leave because his dog was not allowed in the restaurant. Then she called police.
"The law states that you don't have to explain what your disability is or what the dog is specifically for, just that he is a service dog and I even presented her with a card documenting that he is a service dog and that still wasn't good enough for her," Gipson said.
According to Gipson and his attorney, it wasn't good enough for the police officer either.
"This young man had the American Disabilities information in his hand willing to show it to the officer who said 'I don't need to be told what the law is, I know it.' He didn't," Gipson's attorney Lee Parks said.
Parks said the incident was exacerbated when Popeye's later said that they asked Gipson to leave the restaurant because he was involved in an altercation with another customer.
"They claimed there was video, there is no video. They claimed there was a witness, there is no witness. It was a bald-faced, malicious lie," Parks said.
Parks is now pursuing legal action against the owner of the Popeye's restaurant and Cobb County. CBS Atlanta News contacted both for comment today, but the only one talking is Gipson.
"I just don't want to see this happen to somebody else and I want to see other people with service dogs and disabilities treated fairly in the future," Gipson said.
Copyright 2012
WGCL-TV
(Meredith Corporation). All rights reserved
http://www.cbsatlanta.com/story/19576635/man-with-service-dog-sues-popeyes-and-cobb-county-for-discrimination